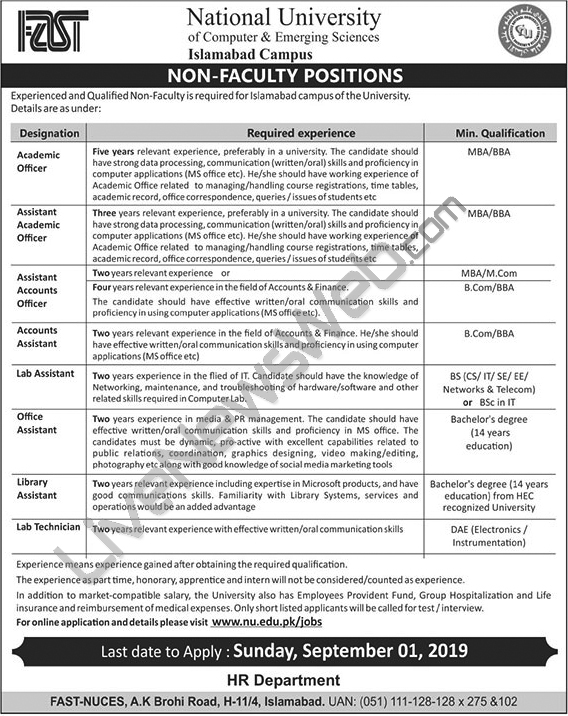 Following jobs available in FAST-NUCES, A.K. Brohi Road, H-11/4, Islamabad. FAST-NUCES required skilled and competent Non-Teaching staff for its campus located in Islamabad. Details are as under
Five years significant experience( university jobs experienced prefer). The candidate should have well-built data processing, communication (written/oral) skills and ability in computer applications (MS office etc). He/she should have working knowledge of Academic Office related to supervision/handling course registrations, time tables, academic record, office correspondence, queries / issues of students etc.

Assistant Academic Officer

Three years significant experience( university jobs experienced prefer). The candidate should have well-built data processing, communication (written/oral) skills and ability in computer applications (MS office etc). He/she should have working knowledge of Academic Office related to supervision/handling course registrations, time tables, academic record, office correspondence, queries / issues of students etc.

Assistant Accounts Officer

Two years significant experience
or
Four years related experience in the field of Accounts & Finance.

The candidate should have efficient in written/oral communication skills and ability in using computer applications (MS office etc).

MBA/M.Com
or
B.Com/BBA

Two years relatedt experience in the field of Accounts & Finance. The candidate should have efficient in written/oral communication skills and ability in using computer applications (MS office etc).

Two years experience in the flied of IT. Candidate should have the awareness of Networking, maintenance, and troubleshooting of hardware/software and other relevant skills required in Computer Lab.

BS (CS/ IT/ SE/ EE/ Networks & Telecom)
or
BSc in IT

Two years experience in media & PR management. The candidate should have efficient in written/oral communication skills and ability in MS office. The candidates must be energetic, pro-active with excellent capabilities related to public relations, coordination, graphics designing, video making/editing, photography etc along with good knowledge of social media marketing tools.

Bachelor's degree (14 years education)

Two years relevant experience including knowledge in Microsoft products, and have good communications skills. Knowledge in Library Systems, services and operations would be an added advantage.

Bachelor's degree (14 years education) from HEC recognized University

Two years relevant experience with effective written/oral communication skills

DAE (Electronics / Instrumentation)
Experience means experience gained after obtaining the required qualification.
The experience as part time, honorary, apprentice and intern will not be measured / counted as experience.
In accumulation to market-compatible salary, the University also has Employees Provident Fund, Group Hospitalization and Life insurance and compensation of medical expenses. Only short listed applicants will be called for test / interview.
Application can be submitted online at

apply online

Last date for submission of Applications: Sunday, September 1, 2019

HR Department
FAST-NUCES, A.K. Brohi Road, H-11/4, Islamabad
Tel: (051)111-128-128 x 275 & 102