Watch 92 News Live Streaming
92 News HD live streaming channel was launched in 6 February 2015/7;00 PM in Lahore. 92 News also known as 92 News HD Plus. It is an Urdu language channel .It is belonging to Galaxy Broadcasting. Its picture format is 16;9(1080i,HDTV).This channel has slogan Ba Khabar, Ba Wasooq. It is Pakistan's first HD television news channel. its broadcasting areas are South Asia, Middle EAST, America, UAE, UK, Ireland, India. Channel also provides Live Streaming TV Online free for its viewers. This channel has headquarters in Lahore, Punjab, Pakistan. On 1992 Pakistan won the Cricket World Cup so channel name based on this event. 92 is the country code of Pakistan and it counts as another major reason in this subject.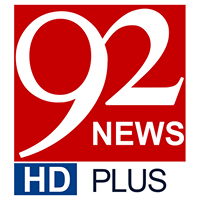 Channel has correspondents in more than 300 cities of Pakistan(self proclaimed). The company is using Hologram Technology and state of the art technology with video library. It was named as 92 news to represent the Pakistani cricket team's win in the ICC World cup 92 . Muhammad Haider Amin is the Managing Director. Mian Muhammad Rasheed is the CEO of the channel and Mian Hanif is the current Chairman of the news channel. The channel has over 300 reporters across Pakistan . The news channel was launched in the UK in December 2017. Accolades In 2016, News 92 HD launched its own annual awards.
You can watch Live tv channel on Official Website:- www.92newshd.tv